Sexshop Κατάστημα (Mats Mouts)
Βρίσκεται στο κέντρο της ΡΟΔΟΥ από το 2005 όπου μπορείτε να βρείτε online όλα τα αξεσουάρ που σας ενδιαφέρουν  . Πολλά απ' αυτά είναι διαθέσιμα και μπορείτε να βρείτε αυτό που ψάχνετε σε τηλεφωνική επαφή μεταξύ μας στο 2241022116 .
Ορφανίδου 16 (barstreet) 
Τηλ. 22410 22116 – 85100 ΡΟΔΟΣ
Μπορείτε να μας βρείτε στον χάρτη που θα βρείτε στην φόρμα επικοινωνίας κάνοντας clik στο ΕΠΙΚΟΙΝΩΝΙΑ .
Ωράριο λειτουργίας :
Δευτέρα – Σάββατο : 10:00 -22:00
Κυριακή : κλειστά
Στο κατάστημά μας sexshop mats mouts στην Ρόδο  θα βρείτε :
Μεγάλη ποικιλία σε ερωτικά βοηθήματα, δονητές, σέξι εσώρουχα, αστεία δώρα, φετίχ, κούκλες του έρωτα, ερωτικές ταινίες και πολλά άλλα που θα κάνουν την ερωτική σας ζωή πιο εύκολη και ακόμη πιο όμορφη .
[mappress mapid=»2″]
Τι είναι τα ερωτικά βοηθήματα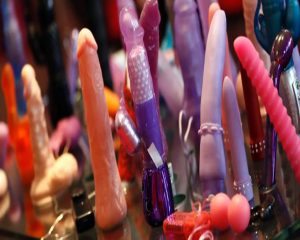 A sex toy is an object or device that is primarily used to facilitate human sexual pleasure, such as a dildo or vibrator. Many popular sex toys are designed to resemble human genitals and may be vibrating or non-vibrating. The term can also include BDSM apparatus and sex furniture such as slings, however it is not applied to items such as birth control, pornography, or condoms. Alternative expressions include adult toy and marital aid, although «marital aid» has a broader sense and is applied to drugs and herbs marketed to supposedly enhance or prolong sex. Sex toys are most commonly sold at a sexshop.
Vibrators
Main article: Vibrator (sex toy)
Vibrators are vibrating devices intended to stimulate the body. Vibrators come in a range of shapes and sizes, for internal or external use. Some vibrators intended for internal use are phallic in shape. Small vibrators may have a stretchy loop attachment for use as a finger toy or cock ring. (Ask in a sexshop)
Penetrative vibrators usually measure twelve to eighteen cm (five to seven inches) in length and two to five cm (one to two inches) wide often to mimic the size of the average human penis.
Anal vibrators are designed to be inserted into the rectum, which may stimulate the prostate in men. The safest ones have a flared base which remains outside the body, that prevents the toy from becoming irretrievable.
G-spot vibrators are curved at one end to facilitate stimulation of the female G-spot. (Ask in a sexshop)
Bullet vibrators are small, bullet-shaped vibrators that can be used for direct stimulation or inserted into other sex toys to increase stimulation. Some are sold with stretchy loops for attachment as a finger toy or cock ring.
Vibrator wands, such as the Hitachi Magic Wand, are large vibrators that generally plug into an electrical outlet (versus operating on battery power) and are often marketed as back massagers. They are able to produce far more powerful vibration than most battery-powered vibrators. Various attachments made of silicone or a rubber material allow the toy to be used penetratively, or give the toy more interesting texture. (Ask in a sexshop)
Alarm clock vibrators designed to wake users in erotic or pleasurable ways.
The rabbit vibrator, of which there are several variations, is a popular female sex toy popularized by the television series Sex and the City.[1] It comprises an insertable shaft which often has additional functionality, such as rotation and internal beads or a thrusting action. Attached to the shaft is a vibrating clitoral stimulator. For most rabbit vibrators this comes in the form of «bunny ears» which sit each side of the clitoris.
Luxury vibrators have an increased focus on design and the use of expensive materials that appeal to a more upscale fashion market.Vibrators are most commonly sold at a sexshop.
Glass sex toys
A glass dildo
Glass sex toys are commonly made from clear medical grade borosilicate glass («hard glass»), which is non-toxic and will withstand extreme temperatures as well as physical shock without compromising its structural integrity. The choice of this material provides safety in use and the option to heat or chill the toys. It is also non-porous and can be sterilized to help prevent infection with reuse, many glass toys can even be put in the dishwasher making them much easier to maintain. Apart from their practical qualities, a main selling point of glass sex toys is their visual appeal. (Ask in a sexshop)
Some glass sex toys vibrate. There are two main ways this is achieved: the toy may have a hole into which a small bullet vibrator is inserted, or the core of the glass design may be a regular vibrator. The latter design usually has a plastic cap covering the battery compartment, which also houses any control buttons or switches.
You can find them at a sexshop.
Nipple toys (Ask in a sexshop)
Anal beads in practice
A nipple clamp is a clamp used to stimulate the nipples by applying varying degrees of pressure.
Suction devices are generally either rubber or glass, fit around the nipple, and cause nipples to become more sensitive due to engorgement. Glass suction devices may use either heat or a pump to create suction.
Anal toys
Ana toys are sold at a sexshop.
Two butt plugs
Butt plugs are often shorter dildos intended for anal insertion. They tend to have a flared base to prevent the device from becoming lodged in the rectum.
Butt plugs should not be shared with other people, due to the risk of blood-borne diseases, including HIV that can arise from the transfer of body fluids from one person to another. They should be used only for anal play and not inserted into any other orifice, to avoid the transfer of harmful bacteria to other parts of the body. These bacteria may persist through cleaning.
Prostate massagers are devices designed to stimulate a man's prostate for health and pleasure.
Butt plugs are sold at a sexshop.
Anal beads
General penetrative toys
A type of Ben Wa balls
A dildo is a non-vibrating device which is used for sexual stimulation of the vagina and/or anus. Dildos are generally made of silicone rubber, but can be made of other materials such as metals or glass. They are often made to resemble a penis.
A double penetration dildo is a long, usually flexible dildo with both ends designed for penetration. It allows for mutual penetration between two persons (or for double penetration of a single female, both anally and vaginally).
Ben Wa balls are hollow metal balls inserted vaginally which can be worn inside the vagina for extended periods of time. The internal rolling is claimed to enhance orgasms.
Kegel exerciser, also known as vaginal barbells or jugglers are designed to improve muscle tone in the pelvic floor, and can be used for sexual pleasure as well as enhancing vaginal response.
A horseshoe is a non-vibrating sex toy which is shaped similar to a horseshoe, which is put into the vagina and anus at the same time. It is made with softer plastics.
A sex-machine is a motor-driven device that combines penetration with rotational and/or reciprocal movement.
πηγη : wikipedia